Is your landscape ready for an upgrade?
Do you need to revitalize your curb appeal? Or do you want a outdoor living space where you can entertain? The Master's North Florida Landscaping experts can design and transform your yard with our unique blend of landscape construction services.
Since 2004, we have been a multi-year award-winning landscape contractor in Gainesville, St. Augustine, and Ponte Vedra Beach, Florida.
We specialize in providing top-notch landscaping design and installation services that are sure to enhance the beauty and value of your property. Whether you're looking to add a touch of greenery to your yard or transform your outdoor living space into a personal oasis, we've got you covered.
I contracted Masters for long-overdue landscaping. They offered professional recommendations to meet my needs and the project was successfully completed by a professional team. The Irrigation tune-up confirmed appropriate water coverage to insure new landscaping success. The overall project exceeded my expectations. Thank you! - Carter N.
Our Landscaping Services in Ponte Vedra, Gainesville, and St. Augustine include:
Landscape Design
Our licensed and local landscape designers will help you choose the best Florida-friendly plants, features, and layout to fit your style and investment range. We will create a detailed design plan that shows you exactly what your new yard will look like. 
Plant Layout & Installation
Our experienced team of landscapers will work with you to create a unique plant design that fits your vision and meets your needs. From choosing the right plants to expert installation, we'll make sure your yard is low-maintenance, stunning, and appealing.
Landscape Lighting
Our lighting experts will provide you with the best lighting options for your landscaping, whether it's for functional or decorative purposes. We'll install the lights to highlight your favorite features and create a warm, inviting ambiance at night.
Outdoor Living / Paver Patios & Firepits
Our team will help you turn your yard into an extension of your home with beautiful and functional outdoor living paver spaces. We'll design and build custom paver patios, raised garden beds, fire pits, and more to transform your backyard into your own entertaining space
Water Features / Waterfalls & Fountains
Whether you're looking for a simple fountain vase or a stunning waterfall, we'll design and install the perfect water feature for your yard. Not only do water features add beauty to your landscape, but they also create a calming and relaxing atmosphere through movement, sound, and nature.
Artificial Turf / Synthetic Grass
Our team of experienced installers has years of experience in installing high-quality artificial turf that looks and feels like real grass. We use only the best materials and the latest techniques to ensure your artificial turf will last for years to come and provide you with a lush and beautiful yard. Our artificial turf solutions are perfect for those who want a low-maintenance lawn, as well as for sports fields, pet areas, and other high-traffic areas.
Drainage Solutions
Our team offers expert drainage installation services to ensure your property stays healthy and beautiful, even during heavy rain or flooding. Our team of experienced professionals will assess your property and design a custom drainage solution that fits your specific needs. We use only the best materials and the latest techniques to ensure your drainage system will effectively manage water flow and prevent water damage to your property. Whether you need a simple solution for a small yard or a complex system for a large commercial property, we've got you covered.
Landscaping Satisfaction Guaranteed
At The Master's, we strive to exceed our client's expectations.. In fact, keeping our word to our clients is crucial to us, therefore we provide a hassle-free warranty for carrying out your landscape design. If you're not completely happy, we'll make every effort to make things right.
Our 4-D Process
At The Master's, our process of Discover, Design, Deliver, and Delight is utilized to exceed our clients' expectations every step of the way.
Discover
During the Discover phase, we work closely with our clients to understand their needs, preferences, and vision for their outdoor space. Our team of experts will then use this information to create a custom design plan that meets their specific requirements.
Design
In the Design phase, we present our clients with a detailed design plan that shows them exactly what their new yard will look like.
Deliver
During the Deliver phase, our experienced team of landscapers will bring the design to life with expert installation and attention to detail.
Delight
Finally, in the Delight phase, we ensure our clients are completely satisfied with their new outdoor living space and provide ongoing maintenance and support to keep their yard looking its best. With The Master's, you can count on a seamless and enjoyable experience from start to finish
Decades of Exceeded Expectations
What distinguishes us from other landscaping companies is our attention to detail and communication. But don't just believe what we say! See what people are saying about Master's by reading our reviews on Google, Facebook, or Angie's List.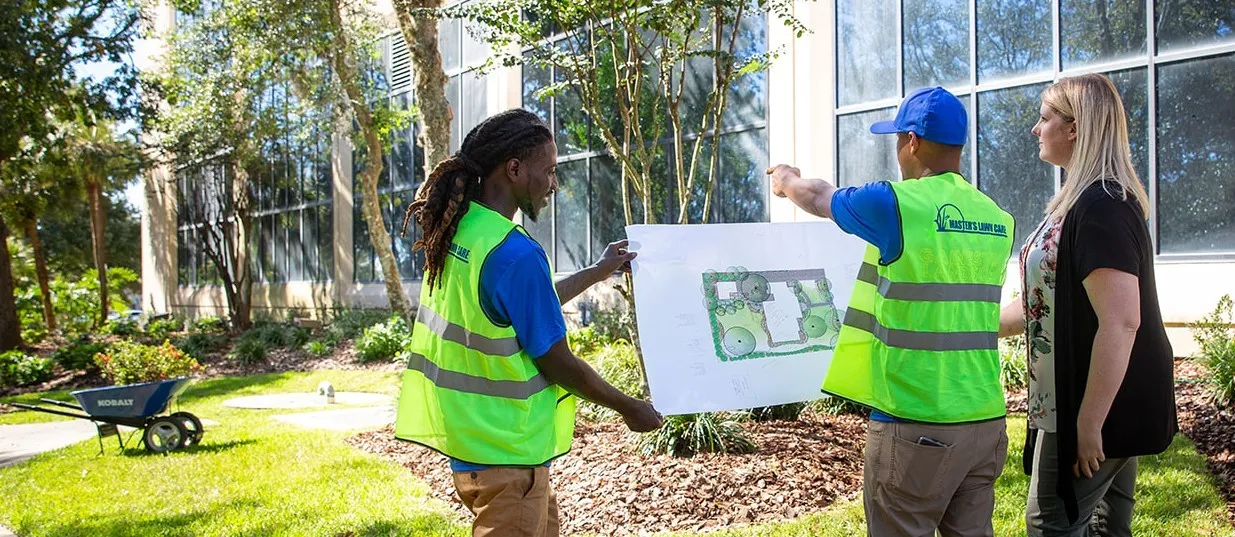 To schedule an in-depth consultation, fill out the form at the top today! You can also call us at (352) 378-5296 or (904) 913-5296