Enjoy Outdoor Living
Construction of a paver patio, pool makeover, or firepits in St. Augustine for a place to unwind and entertain guests is frequently one of the top priorities as more and more people learn to love outdoor living. This space is transformed into an inviting backyard extension of your home. It is a spot to relax with friends, play with the kids, enjoy the sun, read a book, and entertain.
Voted Best Landscape Contractor in North Florida
We can work with any area to create the outdoor experience that you and your family will love for years to come thanks to our experience in Ponte Vedra Paver installation and landscape enhancement. But don't just believe what we say. Check out our reviews on Facebook, Google, Yelp, and Angie's List. We've received the following honors:
Angie's List Super Service Award for Landscape Installation Contractor (Multi-year winner) 
Our Town Magazine's Voted Top Landscape Contractor (multi-year winner)
Best of the Best Landscape Contractor for North Florida (multi-year winner)
Houz's Landscape Design Winner for North Florida
Five-Star Rating on all review platforms (Google, Angie's List, Houz, Facebook...)
Increase Your Property's Usable Space
This outdoor living room is more than just a place for entertainment; it's also a valuable asset that can be used to reclaim unused space in your yard and enhance the value of your property. The tone and scale of the house can be taken into consideration while choosing the color and texture of the pavers. Untapped potential in terms of aesthetics, space, and value can be created by using a paver patio, pathway, or firepit area to connect the house with appealing landscaping features.
Our Proven 4-D Process
The Master's has planned and constructed some of the highest-quality and most aesthetically beautiful landscapes throughout the St. Augustine and South Jacksonville region, and it is known for its unchanging principles and propensity for doing the right thing even when no one is looking.
The Master's team is made up of experts with experience in Ponte Vedra landscape renovations who are dedicated to going above and beyond for customers. As a result, the design and building process is transparent, enjoyable, and refreshing.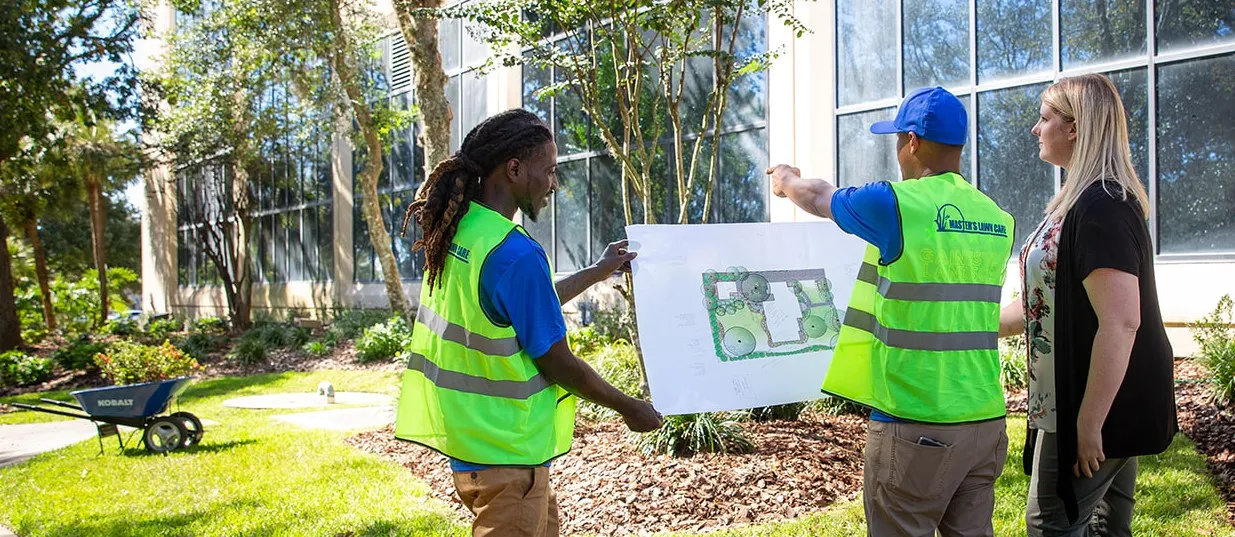 Understanding your vision, needs, and goals for your outside space is the first stage in our 4-D approach. Our experienced team will meet with you to go through your ideas and offer suggestions to assist you in reaching your goal.
Every question we ask during the discovery process will be directed toward achieving a single goal: reigniting your love for your landscape.
Our experienced hardscape & landscape design consultants will develop a unique layout for your outdoor space after thoroughly understanding your goals. The best option is usually not the cheapest. Instead, it is the right one. We'll use cutting-edge technologies and thorough processes to accomplish your vision.
The typical contractor experience is often marked by very little communication and a significant amount of frustration. Our project coordinator's main duty is to keep you updated on schedule via communication throughout the project.
Our team of highly trained professionals will work tirelessly to realize your vision in along with effective communication. We'll create an outdoor environment that goes above and beyond your expectations with careful planning and a dedication to quality.
Making sure you are absolutely delighted with your new outdoor space is the last component in our process. We will be there to make sure that every part of your project exceeds your expectations since we feel that your satisfaction is the best indicator of our success.
The Master's is passionate about building stunning, functional, and sustainable outdoor environments for our clients' enjoyment and delight. To begin the process of discovering, designing, delivering, and delighting your new outdoor space, get in touch with us today.
Call our team today at  (904) 913-5296 or fill out the form at the top of the page to schedule your consultation.