Enjoy Outdoor Living
As more and more people discover the enjoyment of outdoor living, one of the top priorities is often the construction of a paver patio, pool remodel, or firepit for a place where you can relax and entertain. This area becomes an attractive outdoor room for work or play. It is a place to read the Sunday paper, eat a meal, play with the children, enjoy the sun, or entertain friends.
Voted Best Landscape Contractor in Gainesville
With our Gainesville Outdoor Living design and construction experience, we can work with any space to build the outdoor experience that you and your family will enjoy for years to come. Don't just take our word for it, though. Read our reviews on Angie's List, Google, Yelp, and Facebook. We have won the following awards:
Gainesville Sun's Readers Choice Award for best Landscape Contractor (multi-year winner)
Angie's List Super Service Award for Gainesville's top Landscape Installation Contractor (Multi-year winner) 
Our Town Magazine's Voted Top Landscape Contractor (multi-year winner)
Houz's Landscape Design Winner for North Florida
Five-Star Rating on all review platforms (Google, Angie's List, Houz, Facebook...)
Increase Your Property's Usable Space
This outdoor living space is more than an entertainment space - it's also an asset, increasing the value of a home as well as reclaiming unused areas of your yard to use. The selection of the color and texture of the pavers can be chosen to blend with the tone and scale of the house. A paver patio, walkway, or firepit area can connect the house with various parts of the landscape and define spaces within the yard to create unrealized potential in aesthetics, space, and value.
Our Proven 4-D Process
Grounded in unwavering values and a reputation for doing the right thing even when no one is looking, The Master's has designed and installed some of the highest quality and most aesthetically pleasing landscapes throughout the North Florida area.
The Master's is a team stacked with professionals that are skilled in landscape renovations and are committed to exceeding client expectations. This results in a design and construction process that is transparent, fun, and refreshing.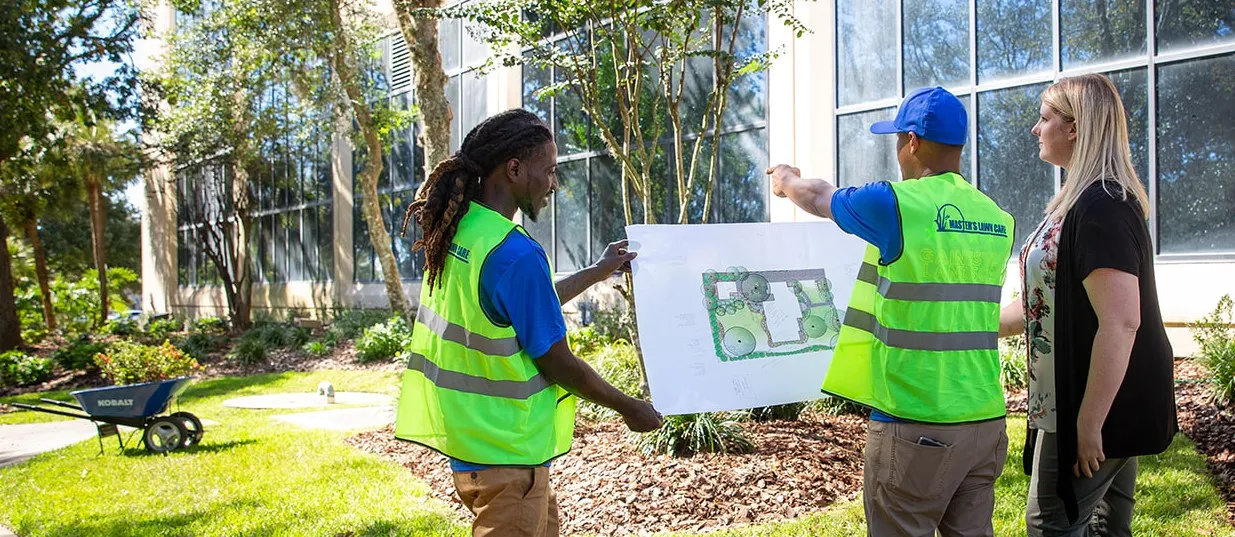 The first step in our process is to understand your vision, needs, and goals for your outdoor space. Our experienced team will meet with you to discuss your ideas and provide expert advice to help bring your vision to life.
All of our questions in the discovery process will be aimed at one singular mission: helping you love your landscape again. 
With a deep understanding of your goals, our talented designers will create a customized plan for your outdoor space. The right solution isn't typically the cheapest - but it's the best.  Using the latest technology, we'll bring your vision to life with detailed plans.  
Very little communication and a great deal of frustration are common characteristics of the typical contractor experience.  Our project coordinator's primary duty it is to schedule and communicate with you throughout the project so that you are kept in the loop.
In addition to communication, Our team of highly skilled professionals will work tirelessly to bring your vision to life. With attention to detail and a commitment to quality, we'll deliver an outdoor space that exceeds your expectations.
The final step in our process is to ensure that you are completely satisfied with your new outdoor space. We believe that your satisfaction is the ultimate measure of our success, and we'll be there to ensure that every aspect of your project exceeds your expectations.
At The Master's, we are passionate about creating beautiful, functional, and sustainable outdoor spaces that bring joy and delight to our clients. Contact us today to start the journey of discovering, designing, delivering, and delighting in your new outdoor space.
Call our team today at (352) 378-5296.