The Gainesville Irrigation Experts
Having serviced commercial and residential Gainesville Sprinkler Systems for over the past decade, we are the team you can trust to make sure your lawn and landscape are irrigated properly. Our technicians understand that one of the most vital ingredients to a lawn's success is the correct amount of water, and that is our ultimate goal. 
Our Satisfaction Guarantee
Our service technicians not only take pride in their work, but we stand behind our new system installations with a warranty. Our workmanship warranty* guarantees that any new irrigation system installed by our experienced team is protected for a period of 5 years from the date of installation. This warranty* covers any issues arising from the installation process, ensuring that your system is built to the highest standards of quality and craftsmanship.
We also believe in the durability and reliability of the products we use, which is why any parts replaced by our knowledgeable staff also come with their own warranty. These replacement parts are sourced from reputable irrigation suppliers such as Hunter, Rainbird, and others and typically carry a manufacturer's warranty ranging from 1 to 3 years. This additional warranty coverage ensures that you have added peace of mind regarding the functionality and longevity of your irrigation system.
The technician who came out to work on our irrigation system was timely, courteous, and did an amazing job of getting our sprinklers reset. Thank you! I look forward to continuing The Master's Lawn Care services for our irrigation system and even possibly trying other services through them as the need arises. - Valdenora F.
Seasonal Service To Keep Your System Running Efficiently
'An ounce of prevention is worth a pound of cure,' is the old saying. That's why we suggest a service program with seasonal inspections that allows us to maintain your sprinkler system before it has larger problems. We know every year there is going to be a dry spell that wreaks havoc on lawn and landscapes - don't you want your sprinkler system serviced and ready to protect your lawn from the drought?
Why is Master's Sprinkler Service Different?
By having more experienced technicians, using better parts, and understanding the system components, we're able to offer the most holistic-approach to sprinkler service in our area. Call us and let us show you why we're the top-ranked Irrigation Company in Gainesville.
Shout out to The Master's who has done several sprinkler services for us over the years. Yesterday, the technician repaired our irrigation system and, as usual, was very professional, knowledgable, and courteous. We appreciate the excellent service! -Alan N.
To schedule your sprinkler service call, fill out the form at the top of the page or call our office now at (352) 378-5296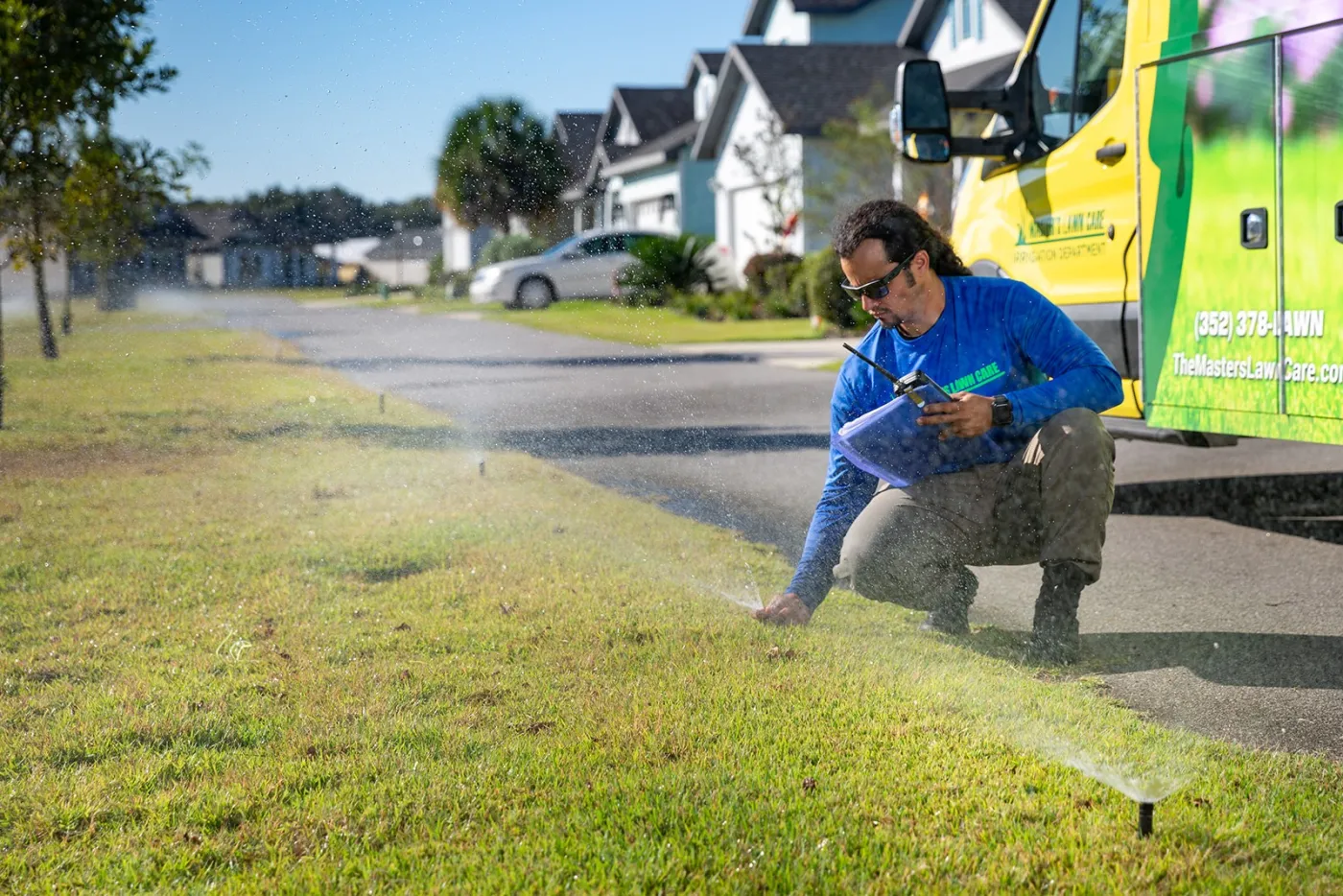 *It's important to note that the warranty is subject to the proper maintenance of your sprinkler system. We highly recommend enrolling in our Bi-Annual or Quarterly Service plans, specifically designed to provide the necessary upkeep and care your system requires. By availing yourself of these maintenance services, you can rest assured that your irrigation system will continue to operate at its optimal performance levels for many years to come.
Test controller and make seasonal adjustments
Test all zones and valves for proper operations
Adjust and fine tune all sprinklers
Check for broken and leaking pipe(s)
Check for broken or clogged sprinkler heads and nozzles
Determine if any sprinkler heads need raising or straightened to ensure correct coverage
Test and clean rain/freeze sensor
Examine Backflow Preventer
Clean filters for drip irrigation (if applicable)
Submitting a proposal any needed repairs or recommended improvements if above pre-approved cost.