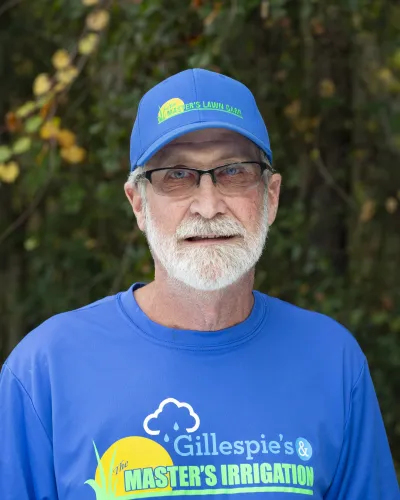 At work
As the Owner and Operator of Gillespie's Irrigation, serving North Central Florida for over a decade, Dave merged his irrigation service with The Master's in 2021 to create a partnership to ensure his clients continue to get excellent service the way they always have. Dave also joined our staff on a part-time basis to provide coaching and training to our up-and-coming irrigation technicians. His expertise from 30 years in the green industry and over a decade in irrigation make him a perfect fit to ensure our technicians are prepared for whatever challenges an irrigation system can throw at them. 
Additionally, he joined to ensure his long-term clients continue to get the same level of service they have come to expect from the GIllespie name. In the transition, Zachariah and Charlie both have joined The Master's team as irrigation technicians to help solve any sprinkler headaches you may have.
Dave believes the key to a strong business is providing excellent  and consistent service, and that is why he joined TMLC in that there are similar mindsets.
Dave has a Certification from the State of FLorida for Backflow Prevention Testing, and continues his education through workshops, in-house courses, and other events several times throughout the year.
Outside of work
Dave and his wonderful bride, Nancy, enjoy spending their free time working on their farm in Alachua, serving in their microchurch community, and spending time with their children and grandchildren.